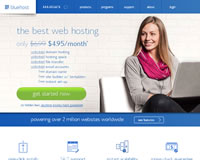 BlueHost is not a pioneer in providing web hosting services – the company was founded in the middle of 90s in Utah. Since then they claim to get grown to the host with millions of customers. BlueHost strives to offer "outstanding services", working on upgrading them and innovating. Having its veteran hosting team the provider should probably have the right to be proud of its services offered to both individuals and business owners. That's probably why Blue host has been included into many top 10 web hosting lists around the web.
BlueHost also offers reseller hosting that enables to start up a web hosting business. Blue Host aims to provide their hosting reseller clients with a flexible administration panel, an advanced client management and billing software, a customized version of cPanel, a powerful resource management technology that might help to prevent downtimes.
In order to protect the customer website from slowdowns caused by abusive users and to resolve such issues Blue Host has created their own proprietary solution that includes disk I/O throttling and extremely sensitive CPU resource allocation. So that BlueHost claims to offer the service compatible to cheap VPS or even to cheap dedicated servers at the cost of shared web hosting.
Blue Host General Information
BlueHost Inc.
1958 South 950 East
Provo, UT 84606
USA
Telephone Main Line: (888) 401-4678
Outside the U.S: +1 (801) 765-9400
Phone support is available 24 Hours a Day 7 Days a Week
BlueHost Data Center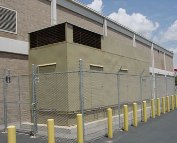 Security of the customer's websites seems to be one of BlueHost's goals and they claim to offer a qualified support to help the sites make a success. According to Blue Host, their facilities and technology is what really makes that possible.
Their headquarters total 50,000 sq. feet along with 2 data centers more than 20,000 sq. feet of space. They utilize their own servers, 10 GB fiber network worldwide, custom linux kernel, operate on diesel generators, UPS power. Thus if a problem occurs they don't use outsourced services and handle issues by themselves.
BlueHost Web Hosting plans
BlueHost supports customers with various hosting features concerning high class technology, databases, website scripts, eCommerce, multimedia, site promotion. They also provide many unlimited options, such as unlimited disk storage, POP3/POP3 Secure E-mail Support, GB of Site Transfer, forwarding e-mail accounts, add-on and parked domains, subdomains. We've collected and list below some of Blue Host features for your convenience:
Unlimited Hosting Space, File Transfer, E-mail accounts
i.e. totally web hosting unlimited plan
cPanel Account Control Panel
Customizable Error Pages
Free Domain (for 1 year)
Free Site Builder with templates
Secure Shell, SSL, FTP, Stats
CGI, Ruby (RoR), Perl, PHP, MySQL
Supports: Javascript, Flash, DHTML, Shockwave
$75 Free Google Credit
99.9% Network Uptime Guarantee
Price: $6.95 per month ($4.95/mo via PRchecker.info) – learn more

BlueHost Advantages
BlueHost provides hosting services to private users and businesses, to novice and advanced clients, for those who require both a complete and cheap hosting solution. With that they also promise to give a good support, flexibility and speed. Below are the highlights of what they offer.
24/7 US-based Support
Unlimited webhosting
SimpleScripts 1-Click installs
SSH Secure Shell Access (hosting ssh)
Resource Management
Average Support hold times under 30 Sec

Track Record

Blazing Servers
BlueHost Resources
Main website: www.bluehost.com
Blue Host Tutorials: Study Video Tutorials
Discount hosting deals: BlueHost Coupons & Discounts