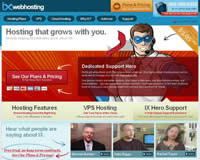 IXWebHosting started in 1999 as a small host supporting their first customers. By the moment they have expanded into a large provider hosting over 500,000 websites with more than 100,000 clients. The company claims to be one of the best hosting sites that offers reliable and affordable web hosting. According to IXWebHosting they are able to achieve the goals thanks to their own data center and experienced staff which are able to provide the web hosting customers with the maximum uptime. They are also well known as the provider supporting both Linux and Windows hosting.
Another main point stated by IXWebHosting in a matter of reliable hosting is a network security. They assure their customers that their hosted sites are secured and not hacked easily by offering three kinds of services: monitoring against blacklists, discovering malicious content, instant problems remediating.
While searching a solution for the best customer support IXWebHosting created a special Personal Support Rep program. This means you get your own support rep, "a trained and skilled service representative", who is supposed to help you with any type of issue arised. The program is also aimed at bypassing schedule contact and phone queues.
IX WebHosting General Information
IX Web Hosting
1774 Dividend Drive,
Columbus, OH 43228
USA
Phone: 1-800-385-0450, or +1 (614) 534 1961
Email: sales [at] ixwebhosting.com
IXWebHosting Data Center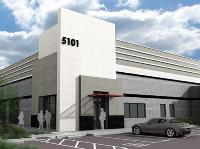 IXWebHosting is proud of its own data center, a Tier 3 (n +1) redundant one. It allows to maintain the highest uptime and also an additional back up for the customer's data. It serves as an automatic transmitter to the extra power source in case of need and thus is able to provide sites with a high uptime. Besides, the provider has 2 industrial diesel generators ready to operate for 24 hours.
IX WebHosting states it offers feature-rich hosting plans, an easy to use product which are possible due to the new hardware and equipment. The provider emphasizes that it has 4/7/365 dedicated support teams for system and network administration and this way they wish their customers to trust their services as they are all properly checked before launching.
IX Web Hosting plans
A number of free dedicated IPs – up to 15 – is another noticeable feature of IXWebHosting. A dedicated hosting is essentially required for eCommerce, business owners or those who are in search of a professional website. For indecisive users IXwebHosting suggests a weekly trial for free to check out if it's really worth signing up with the host. Here you can see some core features of hosting plans by IXWebHosting:

Unlimited bandwidth
Unlimited domain
Unlimited disk space
Unlimited data transfer
Free options available:
* 2 Dedicated IP addresses
* 1 domain registration
* Site design tutorials
* Web hosting control panel
Price: starting at $3.95 per month – learn more
IXWebHosting Advantages
There are a number of IXWebHosting advantages already mentioned above and you can decide for yourself if they fit your needs or not. Also IX WebHosting is a vps host and it is possible to enjoy cloud hosting packages either (the latter is designed for businesses and organizations – at a higher cost, but with far more extended services). So that, below we'd like to list only some of IX Web Hosting features that might be the most appealing ones to our web site visitors:


Linux and Windows web hosting platforms
100% Money back guarantee
99.9% uptime guarantee
Free 7 Day Trial (CC is not billed for 7 days)
Free "One-click" scripts installation
Free Dedicated IPs (eCommerce Ready, SEO safe)
24/7 Customer Support (by phone, chat, ticket, e-mail)
Personal Support Rep
CPU cores, Complete Root/ Admin Access, Choice of Control Panel (for VPS hosting and Cloud hosting plans)
$25+ Google AdWords, $50 Miva, $25 Yahoo! advertising credits
Selection of Easy Install Shopping Carts
Free website building
IXWebHosting Resources
Main website: www.ixwebhosting.com
Tutorials: See IX Webhosting Video Tutorials