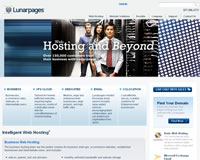 Since 1998 Lunarpages has claimed to be a company offering IT solutions for different enterprises and also a web hosting provider offering its hosting solutions for personal and small business projects. Lunarpages state that they create and manage hosting tools that match perfectly in what comes with building and designing websites, their optimizing and marketing. According to the company, they serve over 150,000 customers.
Lunarpages provides a variety of hosting solutions for both beginners and higher-end users. Among them are starter and basic plans, windows hosting, Linux and Windows vps hosting, business hosting, dedicated hosting. The company is also known as a reseller web host sharing its ideas for advanced individuals who wish to run their own hosting company.
Lunarpages is honored as a leader in the web hosting industry and probably this is due to their high-class hardware, award-winning service and technical support 24/7/365, complete hosting solutions with a number of tools to launch and run a website. Lunar Pages also provides many electronic payment options.
Lunar Pages General Information
Corporate office address:
Add2Net, Inc.
Lunarpages Division
1360 N Hancock Street
Anaheim, CA 92807
USA
Phone: +1-714-521-8150
Fax No: +1-714-521-8195
E-mail: sales [at] lunarpages.com
LunarPages Data Center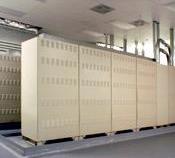 Lunarpages utilizes 4 datacenters located in different parts of the United States:
Hawthorne, California data center – provides with a multi-tiered, reliable, controlled and secure environment for the customer servers.
Irvine, California SAS 70 Type II compliant data center – supplies fully redundant power with diesel generators for backup, multi-tiered security services.
Las Vegas, Nevada data center – intense secure with key card access, Mantraps, 24×7 security monitoring, local police, SAS 70 Type II audit certification.
San Diego, California data center with over 80,000 sq.f. – has Tier 4 certification, advanced technological security; SAS 70 Type II audited.
LunarPages Web Hosting plans
As been mentioned above Lunarpages provides a good choice of hosting plans developed for resolving different tasks. Their most popular offer is Basic hosting plan – it includes a number of basic options and is meant for personal and small to medium businesses, web projects, blogs. The avaliability of DDoS Protection should be the Plan's important feature. This kind of protection is a complete solution for the server which assures that a customer's website is well-protected against server potential attacks (DDoS attacks).
Windows hosting plans focus on active server pages, staging environment and informational websites. VPS web hosting packages should meet Linux/Windows users' hosting demands as well as the ones of developers and proficient users. Choosing their Quicksite™ as a special offer a customer is supposed to get from Lunar pages a ready website within two hours.
Unlimited space and bandwidth
Unlimited e-mail and FTP accounts
1 FREE domain name
Unlimited MySQL databases
Ruby on Rails, Perl, Python, ASP, JSP support
$50 Google AdddWords + $25 Facebook Ads credits
Price: from $4.95 per month – learn more
Monthly Bandwidth: 400 GB
Storage: 5000 MB max
1 FREE domain name
Unlimited e-mail accounts, MySQL databases
Support: ASP (Active Server Pages), ASP.NET, PHP, Perl
$50 Google AdddWords
Price: from $9.95 per month – learn more
Bandwidth/ month: 500 GB-1000 GB
Storage: 10 GB-20 GB
Disk space: 30 GB
1 free domain name
Memory: 512 MB
1 IP address
Parallels Virtuozzo Container
Parallel Plesk Panel®
$25 Facebook Ads + $50 Google AdddWords credits
Optional: WebMatrix (for Windows), Xen Cloud platforms
Price: from $22.95 per month – learn more
Free setup
Free domain name
Unlimited storage
5 email addresses
Email filtering and forwarding
Webmail
Unlimited desktop backup (within 3 months)
$50 Google Adwords credits
$700 Free bonus
500+ templates
One-click blog and shopping cart creating
Image gallery
Design and development assistance
30 day money back guarantee
Price: from $12.95 per month – learn more

LunarPages Hosting Advantages
Lunarpages establish themselves as a leading hosting provider with an experience in the industry over ten years. Their technological solutions are aimed at novice and advanced users, start-ups, established and enterprise-level businesses, e-commerce owners. The variety of Lunarpages hosting plans and tools would allow to choose the best web hosting program to fill the customer's requirements. A noticeable feature included to Lunarpages hosting services is DDoS Protection that allows to prevent hack attacks and keep customers' servers running safe and secure.
Lunarpages offer a wide choice of payment methods. The services can be paid by credit/debit cards (Visa, MasterCard, American Express, Discover), by check/money order, by Electronic Check, or by PayPal. Also there are alternative payment options and a customer can choose what is more preferable: Pay By Cash (through the mail), Western Union, CertaPay (Interac), e-Gold, Paysafecard, NETeller or WebMoney Transfer.
The following are the company's main hosting features:


Free Domain name (one)
Windows hosting
Linux & Windows VPS hosting
DDoS Protection
Online control panel
Unlimited MySQL databases
Quicksite™
Support: Perl, Ruby on Rails, Python, PHP
Server side
A whole list of payment methods
Facebook Ads credits + Google Adwords credits.
LunarPages Resources
Main website: www.lunarpages.com
Support Options: LunarPages Community Forums
Discount hosting deals: LunarPages Coupons & Discounts