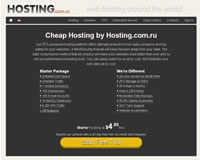 Hosting.com.ru is a hosting provider started in 2004 by LiquidNet Ltd., the United Kingdom based company with headquarters in London. According to their site hey specialize in offering services of low cost web hosting, domain registration services and their clients support.
Hosting.com.ru also say that they provide cheap hosting comprised of business website hosting, blog hosting as well as unlimited domain hosting solutions. Hosting.com.ru is also known as an ongoing investor in the web hosting software development, i.e. they create, develop and design it by themselves and thus don't use outsourced services.
Hosting.com.ru provides hosting solutions to both small and medium-sized businesses and individuals. They utilize 4 data centers located in the USA, Europe and Australia and believe that choosing one of a closer location would help customers have faster loading speeds for their websites.
Hosting.com.ru General Information
Hosting.com.ru main office address and contact information are as follows:
LiquidNet Ltd., Hosting.com.ru Project
13 Craigleith, 7 Kersfield Road
Putney, London, SW15 3HN
United Kingdom
US Toll Free Phone: +1-800-574-0902
International Phone: +1-510-870-0646
UK Phone : +44-20-7993-2673
AU Phone : +61-2-8014-8213
Hosting.com.ru Data Center

There are four data centers used by Hosting.com.ru:
1. The US datacenter is located in Chicago, IL and is owned by Steadfast Networks. The data center is supposed to have a good peering network, fully redundant and meshed, with a number of major backbone service providers that should be among the best in the industry. There is an operation center in the data center that runs 24×7 and guarantees 100% network uptime.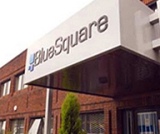 2. The BlueSquare data center with 10,000 square feet is based in the UK, several miles away from London. Since 2006 it's been operating for European, African and Asian customers. The UK data center boasts of its top-notch equipment and infrastructure. It provides N+1 redundancy and is connected with two London dockland data centers. The center can provide access to fiber traveling to Amsterdam, Paris and the USA; its services are maintained by highly-qualified staff.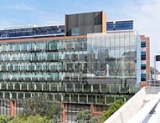 3. Global Switch is known as one of the biggest data center in the Southern Hemisphere resided in Sydney, Australia. It has 50,000 square feet of space and more than 34 MW of power generation capacity what allows to deliver energy to customers at low costs. The AU data center is operated on an advanced Tier III standard and its power system combines 22 diesel rotary UPS system. The security operations center provides the data center monitoring 24×7.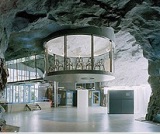 4. Pionen data center is located in Stockholm, Sweden, has nearly 12,000 square feet of space and is considered to be among the best-connected facilities in Northern Europe. It has stylish interiors (placed in a former nuclear shelter) and is owned by one of Sweden's biggest ISP's – Bahnhof. The Swedish data center provides triple redundancy backbone access. The network is fully redundant, supplied with fiber optics and additional copper lines.
Hosting.com.ru Web Hosting plans
Hosting.com.ru states it offer best web hosting solution to beginners and high-end users. Customers using shared hosting services are supposed to get all-inclusive hosting plans, reliable and fast servers, easy-to-use control panel with 15 languages available, a number of free scripts and 24x7x365 customer support. VPS hosting aims at more advanced users who wish to have extended resources and complete control over their server. Among vps opitions we would mention bigger disk space and traffic, high CPU, full root access, OS options.
We'd suggest to check some of the core features of Hosting.com.ru web hosting plans that are as follows:
Free setup
Unlimited storage
Unlimited transfer
1 free domain
100 POP3 email accounts
10 MySQL 5 databases, PostgreSQL 8.3 databases
PHP 5 web hosting (+php 4/php 6)
100 FTP accounts
SSL certificate generator
Free options:
* Site Studio (online site builder)
* Macromedia Dreamweaver support
* FrontPage web hosting
* 1-click 30+ Scripts Installer
Price: $4.95 per month – learn more
Free setup
Disk space: 10 000 MB
Traffic/mo: 300 GB
RAM: 1024 MB
1 dedicated IP address (2 with CP)
CentOs, Ubuntu, Debian operating systems
Parallels Virtuozzo Containers 4.0
Full Root-level Access
Reseller options
Price: from $19.95 per month – learn more

Hosting.com.ru Hosting Advantages
Hosting.com.ru offers hosting solutions to novice and experienced users. The company promises to provide "a trouble-free web experience" which should be cheap hosting services including cheap vps hosting and also affordable dedicated hosting. Moreover, the host draws customers' attention with some free options as web site builder, popular php scripts and marketing tools. And a choice between 4 datacenters in different parts of the world would provide fast page loading and keep the server running 24×7 with no outage.
Here is a list of the main hosting features by Hosting.com.ru:
Free setup
4 datacenters placed all around the world
Free online website builder (Site Studio)
Free marketing and site administration tools
SSH access
30 days money back guarantee
24/7/365 customer suppport (ticket system, phone).
Hosting.com.ru Resources
Main website: www.hosting.com.ru
Tutorials: See Hosting.com.ru Video Tutorials