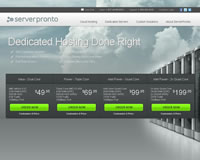 ServerPronto is a subsidiary of infolink that provides affordable and cheap dedicated hosting services since late 90s. It is also known as one of the world's most prosperous data center corporations. For over ten years ServerPronto has been offering its products at low prices. Besides, they consider their other major advantages to be as follows: reliability, bandwidth, facilities and security. According to the company, they currently have more than 10,000 dedicated hosting customers.
ServerPronto has their own network with the location in the USA which maintains fast and redundant fiber connections providing Tier I internet backbone access. The company's data centers with in-house servers are strongly monitored and secured and support center is available 24x7x365.
ServerPronto promises a server to meet customers' requirements and a low cost for dedicated hosting. Among other services they offer: web development, web hosting, eco web hosting, e-commerce, vps web hosting, online gaming, cloud web hosting. Also Server Pronto declare that they have no long-term contracts, and every customer can cancel hosting service within a month period.
Server Pronto General Information
Mailing address and contact infomation are as follows:
ServerPronto / Infolink
3109 Grand Ave. #455
Miami, FL 33133
Phone: +1-305-324-1616
Fax: +1-305-324-1919
E-mail: sales [at] serverpronto.com
ServerPronto Data Center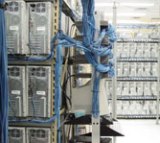 ServerPronto operates their own data center and network and this is why they can guarantee fast internet connectivity. It is possible due to via NAP (Network Access Point) infrastructure with an access to multiple Tier I internet service providers. Tier I standard comprises: Global crossing, Level 3, AT&T, Cogent, Covad.
Moreover, ServerPronto provides carrier-neutral data center services. They are for those clients of small to medium-sized businesses who have their own fiber lines or connectivity agreements with Tier I internet service providers. Therefore, they can be connected directly to their carrier over Infolink's fiber ring and should have some benefits – fault tolerant facilities and equipment.
Server Pronto say they maintain appropriate security environment as video monitoring, entry controls, restricted access. This way customer servers are supposed to fulfil Requirement 9 of the PCI security standard council guidelines concerning physical limitation and security to data.
ServerPronto Dedicated Hosting plans
ServerPronto has a number of dedicated server plans and their options vary in specifications, services, rates and a set of extras. They offer a choice of server operating systems featuring BSD options based on unix, enterprise linux, free linux and windows hosting (the latter are in ten versions). Linux options comprise free Ubuntu, CentOS, Fedora, OpenSUSE, Debian and Gentoo. We suggest viewing a basic package to take into consideration for a start:
Free setup
CPU: AMD Athlon Dual-Core 260 Regor 2x 3.20GHz
Hard drive: 500 GB SATA2 (SSD avl.)
RAM: 2 GB DDR2 + 2GB free
Bandwidth: 5 TB included
Port: 100 Mbps uplink port
Free options:
* Webmin control panel
* Software Firewall
* 1 IP address
* Reboot and support tickets
Price: $39.95 per month – learn more

ServerPronto Advantages
ServerPronto is one of the cheapest web hosting provider and their dedicated servers solution should fit requirements for businesses of different levels. The following are the key advantages of ServerPronto web hosting:
Get 2 months Free: ServerPronto offers new clients a migration promotion that gives 2 free months of service to smoothly migrate their dedicated server or virtual private server from another provider to Server Pronto. The promo is available with a 6-months contract and quarterly payment.
100Mbps Uplink Port: unlike other cheap dedicated server hosts offering 10 Mbps port connection, ServerPronto is able to provide 100 Mbps port. This allows customers to have a much faster access to the server as well as to files, database, etc.
Green Web Hosting: ServerPronto lists their service among green web hosts as they provide dedicated servers with such energy saving components as Intel Atom CPU, WD caviar green HDD and 80+ high efficiency power supplies.
100% Uptime Guarantee: being aware of how crucial can uptime be for customers and their businesses, ServerPronto guarantees 100% network uptime. And they suppose they can make it possible due to their high-class data centers and network connectivity supplied via fault-tolerant facilities.
ServerPronto Coupons
Now that is possible to use the following ServerPronto promotional code to get one of the best 10% off discount of the total price of the order:
Copy promo code and use it on Serverpronto site to get a recurring discount that applies to all further payments for the selected Serverpronto dedicated server but not only the first payment.
Please also check ServerPronto coupons page for the detailed instructions on how to apply the coupon code.
ServerPronto Resources
Main website: www.ServerPronto.com
Support Options: ServerPronto Customer Support Portal
» Promo: ServerPronto Special – $29/month (Dual-Core, 2 GB RAM, 250 GB hdd)