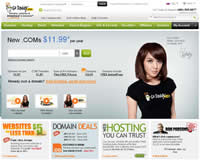 GoDaddy is considered to be one of the world's biggest and best web hosting companies. They started in 1997 as Jomax Technologies established by Bob Parsons. Now the company operates in Washington D. C., Arizona, Colorado, Iowa, as well as abroad – in The Netherlands and Singapore. According to Go Daddy, they have around 10 million customers.
GoDaddy.com is also known as a large ICANN-accredited domain name registar (actually there are three of them all owned by The Go Daddy Group). This enables the company to deliver a variety of products and support them 24/7. GoDaddy gives different services from cheap web site hosting, domain name registration, site builder (free hosting and email accounts included), to serious solutions for businesses and e-commerce websites.
GoDaddy assert that they don't deal with any outsourcers. They own, run and support their data centers what allows the company to provide customers with high-level protection. Among GoDaddy facilities are secure hardware, advanced systems and technologies, network redundancy, on-site support staff.
GoDaddy General Information
GoDaddy corporate headquarters is located in Arizona, U.S. You can contact the provider via mail and email addresses or by phone.
GoDaddy.com, Inc.
14455 N. Hayden Rd., Ste. 226
Scottsdale, AZ 85260
USA
Sales & Support Phone Numbers: (480) 505-8877
E-mail: support [at] godaddy.com
GoDaddy Data Center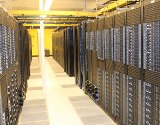 GoDaddy has a growing number of large-scale data centers located in the U.S., Europe and South-Eastern Asia, and their space now exceeds 70, 000 sq. feet. GoDaddy is proud of proprietary and security technologies what allows them to use no outsourcing at all and maintain complete control over all operations and safety of customers' data.
GoDaddy data centers major features are:
Full network redundancy
Long uptime (99,9%)
Best-in-class equipment for firewalls, routers and servers
Fully-Integrated monitoring system
Innovative secure technology restricting access to all data centers locations
Complete protection due to automatic email monitoring for virus detection and cleaning
Full and incremental backups (web hosting plans only)
Reliable fire protection, detection and suppression systems
24/7 security staff, data center staff (both are on-site) and network operations center.
GoDaddy Web Hosting Plans
For personal and small business sites GoDaddy offers affordable web hosting plans. For more complicated solutions GoDaddy provides with virtual server hosting (virtual private hosting) and dedicated server hosting. These services are used when a website is traffic-intensive (e.g. the one of a big enterprise) and a more reliable vps hosting is needed. You can choose a hosting plan to keep up with your demands based on the plans' features outlined below.

UNLIMITED web hosting by GoDaddy
» 10 GB disk space
» Unlimited bandwidth
» 100 Email Accounts
» 10 MySQL Databases
Price: $4.99 per month – learn more
VPS hosting by GoDaddy
» OS: Linux CentOS
» Storage: 20 GB
» RAM: 1 GB
» Bandwidth: 500 GB per month
Price to choose:
1/6/12 months: $29.99 per month
24 months: $23.99 per month – learn more
DEDICATED hosting by GoDaddy
» OS: Linux CentOS
» CPU: Intel Core i3 – 2 cores
» Bandwidth: 5000 GB/mo
» Storage: 2 x 120 GB hard drives
» RAM: 2 GB
Price to choose:
1/3 months: $99.99 per month
12 months: $89.99 per month
24 months: $79.99 per month – learn more
GoDaddy Hosting Advantages
All GoDaddy hosting plans include the features listed below, and we hope this will help you make the right decision.
GoDaddy promises to have NO hidden fees
GoDaddy gives Free setup and software along with
Setup of a hosting plan with Go Daddy is easy, or there is fast
GoDaddy offers these FREE options:
* email addresses, $100.00 ad credits from Google
*10 Fotolia photo credits
* $50/ $100 Bing™ / Yahoo! Search Credit
* $50 Facebook Advertising Credit
GoDaddy plans include website statistics and Google webmaster tools
GoDaddy says backup is done on a daily basis
GoDaddy claims to offer 24/7 customer supports
GoDaddy is also a reseller web host and promises to give different credits and bonuses to set up your own reseller business
GoDaddy provides Quick and Easy Blog Hosting service.
Go Daddy Resources
Main website: www.godaddy.com
Support Options: GoDaddy Support Forums