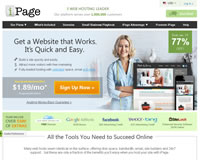 iPage has been in the website hosting industry since 1998. They state they are known as one of the best web hosting companies that provides hosting solution for businesses and organizations, for social and personal needs and promises to offer a good flexibility to its clients. According to the provider, it has six worldwide locations, serves customers in 150 countries and hosts more than a million websites.
iPage considers three things to be the most important for its customers – websites, email and security. So they promise to give enough features to create good sites and provide security to them and site visitors (due to a special Security Suite), and also to have a well functioning and spamless mail.
iPage claims to be a green web hosting company. To offset energy use completely, the provider states that it acquired Renewable Energy Certificates and this way has reduced its carbon footprint. Therefore iPage can guarantee that its customers' websites are 100% powered by wind energy.
iPage Hosting General Information
iPage Hosting
70 Blanchard Rd 3rd Floor,
Burlington, MA 01803
USA
Phone No: 1-(877)-472-4399
E-mail: support [at] ipage-inc.com
iPage Data Center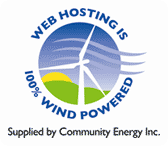 iPage has 2 data centers in Massachusetts area, Boston. They consist of 800 servers and half a Petabyte of storage placed on about 2500 sq feet of space. iPage's network infrastructure has a pooled structure what is supposed to make any company's server accessible to the customer website files and thus give a site fast loading period and less service outage.
iPage's hosting architecture is comprised of dual Big Iron load balancers and DELL servers divided into application pools (as FTP, Web, incoming mail). This makes possible each box to have more density and this way allow offering reliable hosting services.
iPage Web Hosting plans
iPage offers its customers all-in-one web hosting solution – Essential Plan. They claim to provide everything a customer might require to put a personal or business website online. Among the Plan's features are unlimited hosting support, free domain, marketing tools, easy to install applications (such as photo galleries, blogs), site builders: drag-and-drop (free) and template-based ones, selling tools and online stores and more. Please view some of them below:
Unlimited hosting space
Unlimited data transfer
Unlimited domain hosting
Unlimited MySQL databases
Unlimited email addresses at 1 domain
$75 Google, $25 Yahoo! & $50 Facebook Marketing Credits
FREE options:
* Domain
* SiteLock security suite
* Point & click site builder
* Online store, Blog, Script library
Price: $3.95 /month (PROMO: $2+/month via PRchecker.info) – learn more

iPage Hosting Features
iPage have been offering their cheap hosting solution to both novice and higher-end users for more than 10 years and therefore claim to be committed to a big customer experience. The company has a staff comprised of 800 employees who serve the customers in 6 locations worldwide. And the following list contains the highlights of what iPage advertises to be able to provide:
Unlimited bandwidth, domains, disk space
Free site builder, blog, photo galleries
Free Security Suite
Marketing tools
Eco-friendly hosting
Online Help Center and Ticketing System
30-days money back guarantee
Step-by-Step Tutorials for Using Your Account
24×7 Phone, Chat and Email Support
iPage Resources
Main website: www.ipage.com
Other services by iPage: WordPress Hosting, VPS Hosting, Dedicated Servers
Web Hosting Discounts by iPage.com: iPage Coupon Code 🙂