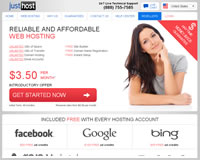 JustHost has been in the web hosting industry since 1998. It is among web hosts which are dedicated to giving customers a reliable and fast hosting services at affordable rates. With their only one plan – Just Plan – they offer several features that they suppose should be enough for customers to choose their services. We'd also note that JustHost has got a number of awards for their services: Host of the Year 2010, Best Features 2009, and Best Hosting Pick 2010.
JustHost provides users with their own free domain or can transfer a domain free. Also there is a possibility to host an unlimited number of domains in cPanel account what allows to manage all sites on one server from one place. According to JustHost their web hosting features are closely integrated with a customer control panel and make it easy to work and improve a site. Thus, it provides with other easy to use services as application installs, template designs and more.
If some trouble occurs and technical support is required, JustHost offers 3 contact methods to get 24/7 – email, chat and phone. In case you want to cancel your hosting account, they promise to give your money back for the remainder of the term at any time. The provider also says that no setup fees or domain registration fees will be kept back.
Just Host General Information
Just Host, Inc.
919 East Jefferson St.
Phoenix, AZ 85034
USA
Phone No: 1-(888)-755-7585
E-mail: support [at] justhost.com
JustHost Data Center
JustHost Datacenter is located in Chicago, Illinois, and hosts above 2,000 cheap dedicated servers for both shared and dedicated customers. The host claims that it is always monitored by four technicians on duty. Also the provider has an advance server monitoring solution that can alert technical specialists before a problem happens what ensures the quickest solution in any situation.
JustHost Datacenter operates on quad processor servers and is supplied with a UPS power back-up generator. The company assures customers that they use an advance protection against threats – for that they guarantee the latest software releases and reliable security patches. Thus JustHost claims to provide secure hosting environment to keep customer websites without interruptions.
JustHost Web Hosting plans
JustHost provide their website hosting services for both individuals and businesses. They promise to offer a cheap web hosting and full functionality. There are some features of the host's Just Plan:

Unlimited data transfer
Unlimited web hosting (as many domains as you like)
Unlimited email accounts
Unlimited GB's hosting space
SSL, FTP, Stats
CGI, Ruby (RoR), Perl, PHP, MySQL
Support International Domain Names
Shell (SSH) Access
Site Statistics
Linux operating system
FREE options by JustHost:
* Domain name
* Site builder
* Website Scripts
Price: $6.95 per month (PROMO: $3.75 per month) – learn more
100 GB of Disk Space
15 Mbps of Bandwidth
Unlimited Hosted Domains
Unlimited Sub Domains
Unlimited Email Accounts
Unlimited MySQL Databases
Unlimited FTP Accounts
Unlimited cPanel Accounts
SSL, FTP, Stats
Site Builder Software + Website Templates
Domain Reseller Account
Simple Scripts Automatic Installer
Private Name Servers
ClientExec Billing System
WHM (Web Host Manager) cPanel Control Panel
Price: $22.95 per month (PROMO: $19.95 per month) – learn more
JustHost Advantages
It looks like Just Host is committed to provide their clients with the best web hosting and according to the company it stands for an affordable cost, secure servers and a professional 24×7 customer support. They also hope that they give all the necessary web hosting details before a customer can make a decision.


Free Instant Setup
No hidden fees
Free Domain Transfer
Unlimited Disk Space
Unlimited MySQL Databases
cPanel Account Control Panel
Free Site Builder with Templates
$50 Google Ad Credits
$25 Yahoo Ad Credits
$50 MySpace Ad Credits
e-Commerce Shopping Carts
Anytime Money Back Guarantee
24/7 live technical support
JustHost Resources
Main website: www.justhost.com
Tutorials: See JustHost Video Tutorials