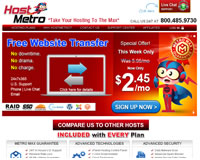 HostMetro has been providing web hosting for personal and small business customers since 2012. While relatively new, they claim they have quickly become one of the go to names for quality cheap web hosting solutions. They state they offer customers a solid hosting platform backed by their "Metro Max Guarantee" which includes a variety of customer friendly features.
HostMetro considers that they stand out from other webhost companies is with their excellent customer service, as their aim is to not only offer quality website hosting solutions, but also provide the best customer service in the industry, and their helpful, friendly support staff goes a long way in making sure they provide quality service 24/7/365.
Another thing that according to HostMetro sets them apart from the other same price level web hosting providers is their renewal rate lock. Being a part of their "Metro Max Guarantee" that is HostMetro promise to never raise prices on web hosting renewals. So that Host Metro indicates they not only want to get new customers, but make sure they keep their loyal customers happy.
HostMetro General Information
HostMetro Hosting
415 W. Golf Rd. Suite 5
Arlington Heights, IL 60005
USA
Phone No: 1-(800)-485-9730
E-mail: support [at] hostmetro.com
HostMetro Data Center & Technology
HostMetro's data center is located in Elk Grove Village, Illinois, just 15 minutes north of Chicago, and according to HostMetro the data center offers complete redundancy in power, network connectivity, fire suppression, and security, while their network infrastructure includes multiple 10 GB/s connections to ensure the fastest, most reliable server speeds.
HostMetro states that all their servers are powered by Dual Quad-Core Intel processors with 96GB of RAM and RAID protected storage, and MySQL database servers include SSD drives for increased reliability and loading speeds.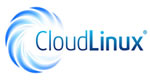 All HostMetro servers utilize CloudLinux that keeps each hosting account isolated so that if another account on the same server encounters a resource spike it does not have any effect on other accounts or websites, while the traditional shared hosting environments don't have control over each individual account in the event of a resource spike. So that CloudLinux based systems should be much more stable and secure, and provide guaranteed resources to each single web site.
HostMetro Hosting plans
HostMetro offers two web hosting options, one package for personal and/or informational websites, and another for e-commerce websites. Both packages include unlimited hosting space and bandwidth, the ability to host unlimited domain names, unlimited email addresses, Softaculous one click script installer, two website builders, and more. A list of features can be seen below:
Mega Max Hosting plan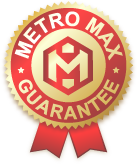 Unlimited hosting space
Unlimited bandwidth
Unlimited domain hosting
Unlimited MySQL databases
Unlimited email addresses
$100 Google marketing credits
Two free website builders
24/7/365 in house U.S. Support
99.9% Uptime Guarantee
Price: from
$2.45
/month, plus
25% OFF
any purchase * –
learn more
* use coupon code prchecker25 to get this exclusive discount for Prchecker.info visitors
Business Max Hosting plan
Everything you see above plus e-commerce features like
SSL Certificate
Dedicated IP address
SiteLock Security Seal
SEO Submission & Consultation
SEO E-book

HostMetro Web Hosting Advantages
According to HostMetro website those are some of their main webhosting advantages that might help to make it affordable, easy to create, manage, and maintain a website and hosting account:
Secure and reliable backups – they take automatic, weekly backups of all hosting accounts to make sure every client always have a backup in case something happens to his/her website;
cPanel Control Panel is the most popular control panel in the industry, offering the most user friendly features in an interface that is easy to understand, making it simple to run a website;
U.S Based Customer Support – the claim to have a team of highly qualified representatives is available to 24/7 to ensure that clients are 100% satisfied with the hosting services;
Metro Max Guarantee that includes their guarantees for maximun service satisfaction, 30-days full money back, renewal rate lock, maximum features and 99.9% uptime – learn more
Host Metro Resources
Main website: www.hostmetro.com
Other Resources: HostMetro Tutorials, Compare HostMetro Hosting plans