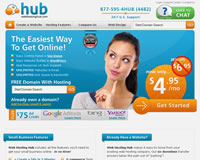 According to their site WebhostingHub project was started in 2001 by the same guys who run a well known business web hosting service InmotionHosting. However, unlike their business website hosting project WebHostingHub services are proposed for the DIY (Do-It-Yourself) type customers that either have some experience in setting up web sites, using control panel and other features of standard unlimited hosting plan, or those that do want to learn how to deal with shared web hosting account.
With that approach in mind Web Hosting HUB claims to provide a completely hassle-free, all-in-one web hosting package with 24/7 customer support at a quite low price that probably enables to consider WebHostingHub among the top cheap web hosts currently available on the market.
Web Hosting HUB states that one of their top web hosting advantages is that they make it very simple to get a new website and email online either using a website builder tool or using one of the built-in one-click installers of the most popular CMS platforms, such as WordPress, Drupal, Joomla, etc. that enable to setup a personal or business website within minutes and manage it effectively.
WebHostingHub General Information
WebHostingHUB.com
3629 Sentara Way
Virginia Beach, VA 23452
USA
Toll FREE phone: 877-595-4482 x2
International phone: +1- 757-416-6627 x2
E-mail: sales [at] webhostinghub.com
WebHostingHub Data Center
Unlike many other web hosts that have just one location WebHostingHub utilize 2 data centers that are located on opposite coasts of US that according to WebHostingHub enables their customers in US and all around the world to maximize their site performance by choosing the data center that is closer to their location and thus can serve their sites more efficiently. Also it seems such location of Web Hosting HUB data centers helps to improve the connection speeds to all locations around the world as follows: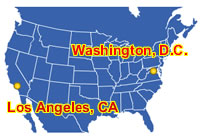 East Coast data center (Washington, D.C.) provides a better performance to the customers of these regions:
– Eastern part of North America
– Europe
– South America
– Africa
West Coast data center (Los Angeles, CA) provides a better performance to the customers of the following regions:
– Western part of North America
– Australia / New Zealand
– Asia
– South Pacific region
The other advantage of their service mentioned by WebHostingHub is that in addition to multiple data centers, they have teamed up with some of the world's largest ISPs and peering exchanges to create direct data-peering connections that enables to direct requests to customers' websites, or the emails that they send via fewer network "hops" that with no doubt increases the delivery speed and performance further.
WebHostingHub Hosting plans

Web Hosting Hub claims to offer an easy and hassle-free way to get new website online in minutes by providing all-in-one unlimited web hosting plan that should work very well for both personal sites and small-business website owners. Just to mention some of the features of proposed shared hosting plan that include a free domain name registration or free domain transfer, unlimited web space, data transfer, and other unlimited things like subdomains, addon domains, etc. as well as WordPress hosting or Premium Website Builder installation, and many more. See the details below:
WebHostingHub Hosting plan
Unlimited websites hosting
Unlimited disk space
Unlimited bandwidth
Unlimited FTP accounts
Unlimited MySQL databases
Unlimited Email addresses
Easy Install of Forum, Blogs, e-commerce tools
Advanced Security with suPHP
FREE options:
– Free Domain Registration or Transfer
– Free $75 Google Adwords, $75 Bing/Yahoo! credits
– Free Premium Site Builder
– FREE Shared SSL, web stats, etc.
Price: $4.95 per month (PROMO: $3.95 /month *) – learn more
(* special offer by WebhostingHub exclusively for PRchecker.info visitors)

Web Hosting Hub Advantages
Those listed below are probably the main WebHostingHub advantages that might help you to compare their services to other web hosts and make a decision if you'd like to try Web Hosting Hub services:
cPanel Control Panel – WebHostingHub hosting accounts are powered by cPanel 11 that is probably the most widely used web hosting control panel, that is so easy and so comfortable to use;
Premium Website Builder is probably the easiest and fastest way to get a small business website online i.e. to choose a theme (from over 500 free web templates), edit a website's content, and then publish it to the web;
Easy Blog Hosting – WebHosting Hub provides an easy 1-click installation of WordPress blog that is the most well known and widely used blogging engine that enables to setup, design and configure blog in minutes, and then manage it easily;
90 Days Money Back Guarantee – WebHostingHub offers a VERY 90 days money back guarantee, so that one gets the very 90 days to try WebHostingHub service and decide if it meets his/her requirements;
24/7 US Based Support – that means all their customer support staff are actually located in their hosting company's building in the United States and they claim they never transfer calls and other support requests to out-sourced support in another country or call center.
WebHostingHub Resources
Main website: www.webhostinghub.com
Tech Support: WebHostingHUB Tutorials
Hosting Options: WordPress Hosting, Joomla Hosting, Drupal Hosting