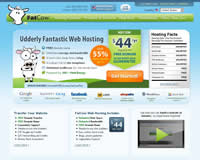 FatCow focuses on small businesses and individuals and claims to offer some of the top web hosting services in the industry. Based in 1998 the company appeared to use a "more customer friendly approach", that is to do a lot more to meet customer needs. And that is probably one of the reasons why FatCow hosting site is included in many 10 best web hosting lists around the web.
The FatCow team believe they provide simple, good and valuable service and hosting which is easy to own and use. They offer a hosting plan that they assume is perfect for those who start their own business or look for a placeholder for some domains.
FatCow is a green web host what means their data centers and offices are powered by wind energy. The company has Renewable Energy Certificates (RECs), or Green tags that represent the benefits of wind power for the environment.
FatCow General Information
FatCow company mailing address and other contact details are as follows:
FatCow, Inc.
70 Blanchard Road, 3rd Floor
Burlington, MA 01803
USA
Sales Phone Number: +1 866 544 9343
Support Phone Number: +1 888 278 9780
E-mail: support [at] fatcow-inc.com
FatCow Data Center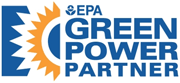 FatCow uses 2 spacious data centers in the Boston, MA area, with over 800 Servers in both of them and half a Petabyte of storage. Their network infrastructure includes a pooled server environment that gives servers access to web site files if needed. This, along with web hosting services, allow customer sites to provide faster loading time and minimize suspensions as compared with usual hosting networks.
FatCow data centers common features are:
night and day security
running on N+1 power (A/C + D/C)
similar network architecture and equipment.
The provider's front-end infrastructure includes dual redundant M7I routers and two firewalls with IDP technology cross-connected to the outside world with BGP border gateway protocol.
FatCow Web Hosting plans
FatCow claims to be a company of shared web hosting for personal and business sites. It is based on a "one-plan-one price philosophy", and as they point out, it has everything to easily get a website on the net for a reasonable sum of money. Also, because their machines are powered by wind energy, Fat Cow provides customers with eco-friendly hosting.
» Unlimited Disk Space
» Unlimited Bandwidth
» Unlimited Domains per Account (1 FREE domain name)
» Unlimited Email Accounts
» Unlimited FTP Users and SubUsers
» FREE Domain Name, Script Barn, Website Builder
» Available Applications: WordPress, Joomla, phpBB, Gallery2 & more
Price: $3.15 per month – learn more

FatCow Hosting Advantages
If you feel that FatCow hosting is what you need, we can highlight its main points for you:
FatCow provides unlimited bandwidth and space with no usage limits to online resources
With Fat Cow you pay no fees for setup and get 1 free domain name
FatCow promises to give your money back within a month period
FatCow offers PHP 5 web hosting support and unlimited MySQL databases
FatCow hosting services include Drag and Drop Builder – a basic free site builder with a number of options and templates
FatCow web hosting is green, so your site will be hosted with wind energy
FatCow professional support is provided 24×7 (by phone or email).
FatCow Resources
Main website: www.fatcow.com
Tutorials: FatCow Video Tutorials