In this article we aim to consider the matter of how to choose a free website monitoring service to control the site uptime and the options one might want to take into account when he/she is choosing among free site monitoring services available on the web.
Yes that's right, nowadays there are a huge number of paid and free services that can help to monitor your website and that will help you to control your website uptime 24×7, and the matter of choosing the right web site monitoring service becomes quite relevant.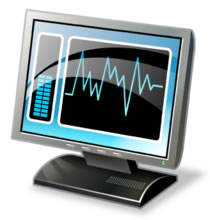 That's not the secret, and we'd recommend to consider this option, most newbies as well as the owners of smaller web projects tend to choose exactly free monitoring services (vs paid ones), as first, checking, monitoring and analysis of websites is free of charge, and second, new or small clients do not require advanced services and they can start and usually do very well with the smallest package that is usually that free monitoring plan.
As a result of some research and comparison of many providers offering web site monitoring free of charge, we've decide to review and submit to the readers just three site monitor services that we consider might be right options to choose from, as well as our recommendations regarding the matters that you might want to pay your attention while choosing the best site monitor solution for your site.
In the reviews and comparison we decided to consider such main features of free monitoring services as the maximum number of monitoring tasks, monitoring interval, number of monitoring locations, and the variety of monitoring functions. In our opinion the mentioned features are some of the most important to the users in choosing a free monitoring service.
So, here are the 3 providers of our choice (please note that the order does not indicate and rating or preferences but it only follows the logic of the article):
1. Siteuptime.com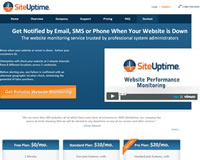 The free web site monitoring service that is definitely worth consideration is Siteuptime.com. This service might be the right choice for complete newbies who have never dealt with the matters of monitoring sites because Siteuptime service is very easy to use and it does not require any additional knowledge in order to setup website uptime testing quickly and successfully.
Siteuptime.com enables to check for free the uptime of just 1 site with 30 or 60 minute monitoring intervals and the allows to select one of the 8 monitoring locations. And this service does not provide any additional advanced functions apart from notification regarding the issues with monitored site via e-mail. So, we suppose Siteuptime might be the right solution for beginners who do not require a large selection of features, but who just need to monitor one web site and get notified if the site "goes down" i.e. if it stops working properly.
Siteuptime website: http://www.siteuptime.com/
2. Uptimerobot.com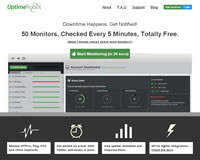 In case one is a developer who deals with a large number of sites that require constant monitoring of uptime and performance, and the one does not want to spend big $$$ to pay for the service, then it might be a good idea to consider free web monitoring service by Uptimerobot.com. Despite of the lack of add-on features and options in Site Monitoring control panel, Uptimerobot service is one of the very few (if not the only one among free website monitors) that enables to simultaneously monitor 50 sites (i.e. 50 monitoring tasks) at once with a pretty small monitoring interval of just 5 minutes that allows to check website performance every 5 minutes.
These features are close to a professional paid service at the price of zero per month that might put Uptimerobot service as a good choice of website monitoring for experienced webmasters.
You might also consider another advantage of this site that is an easy and fast registration – it requires filling in just three text-boxes on their website and one can start checking his/her site uptime and use other monitoring services.
Uptimerobot website: http://uptimerobot.com/
3. Host-tracker.com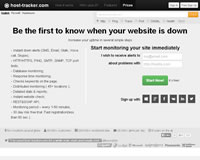 And if you'd like to consider the web site monitoring provider that might work well for both beginners and advanced users, then your could check Host-tracker.com. Unlike Host-tracker's advanced paid plans their free website monitor package does not provide the best options of the number of monitored sites (monitoring tasks) and monitoring interval – you can monitor free only 2 sites at the interval of 30 minutes, however, Host-tracker provides many useful functions for professional monitoring of web sites (e.g. Logjam, SSLv3, DNSBL, RegBL).
Another feature of Host-tracker is that even without registering on the site any visitor can check the speed of the site, the results of "ping" and "trace route" commands (that enables to verify if the site is available), check if the browser is protected from SSLv3 vulnerabilities, verify if the domain name and port are Logjam vulnerable, as well as to check if site or IP address could get to some SPAM-database (so called DNSBL) using the corresponding function.
In case you'd like more advanced site monitoring options to control the stable operation of your website, then Host-tracker proposes to register on the site and get access to many other features, e.g.:
Web site monitor (http)
Port check
Content monitor
Response time monitor
Database connection monitor
Finally, one of the advantage of Host-Tracker.com service is that they provide the very 50+ monitoring locations all around the world that makes it possible to monitor websites from/in many locations and thus to make sure the visitors from target locations/countries are served properly by your site.
Host-Tracker website: http://www.host-tracker.com/
Choosing best free website monitoring
Summarizing the mentioned above, we should admit that choosing the best monitoring service for your website in not an easy task, though it is not too difficult either. We'd recommend to select a number of services that might work for you, then to read few reviews regarding their features and services here and there, and then to choose one or few for a final examination i.e. live testing. Register at their sites and do the final testing, pick one or two for long-term testing that might turn to successful long term operation on your site.
If you are just starting on the Internet and thus you do not have too much experience with websites then it might be a good idea to go with the site monitoring service that offers a minimum of functions yet that is simple and easy to setup and to use e.g. Siteuptime.
The beginers might want to check best free web hosting list here: https://www.prchecker.info/web-hosting/top-10-free-web-hosting-sites/
While those experienced in web hosting matters, the owners of larger websites and/or busy web resources, whose income depend on website availability might want to go for more advanced web monitoring services with the "better" monitor options such as a shorter monitoring interval, more monitoring locations, etc. and/or with a wider range of functions to monitor different aspects of website, VPS, dedicated server. (Uptimerobot or Host-tracker).
Experienced users might be intersted to check best website hosts list here: https://www.prchecker.info/top-10-web-hosting.php
And in case one day you find out that you website monitoring free service does not provide enough services/features you can always upgrade to the paid plan as most those services propose to do.
Good luck choosing the best web monitoring service for your lovely site!