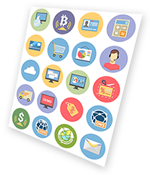 We at PRChecker.info are very pleased to announce that we have finally put into operation a new section of our site that provides a set of free icons for all our website visitors to use and enjoy.
One of the key features of PRchecker Free Web Icons package is that the icons are distributed under so called MIT_License that means that one without any limitation can use, copy, modify, merge, publish, distribute, sublicense, and/or sell copies of the package, and to allow those to whom the package is furnished to do. So that, you can do whatever you wish with the icons and enjoy doing so 🙂
Another great feature of PRchecker Free Icon set is that the icons were designed with a web developer in mind that might require to build the best web hosting site or free domain registration website, software or e-commerce site as well as general IT or web design related web site.
here are just few examples of web hosting icons from the package:




and few examples of e-commerce icons from the package:




and some social network icons:


and some green icons from PRchecker package:


and many more icons free to use on your web hosting sites, website design, eCommerce, web software and other IT web sites.
Check all free icons here: https://www.prchecker.info/free-icons/