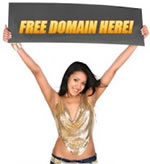 Still that is an option to create a totally free website, blog or community forums and publish it on the web at absolutely no cost. However, unfortunately, many free website hosting providers still offer a long and very difficult to remember web address to their free site hosting users.
And that is the point where one can take advantage of free domain registration service that enables to get a free domain with a very short and very easy to remember extension and mask the terribly looking free web site address with a perfectly looking free domain web address.
In this article we provide the reviews of the best free domain name services and detailed descriptions of their main features. And thus we list the reviews of the top 5 free domain name providers according to the features and quality of the offered services and free domains:
And see the detailed reviews of best free domains below:
Free Domains at .co.nr

FreeDomain.co.nr provides free domain registration service with a very short and easy to remember .co.nr extension. So that, their users get free domains like www.sitename.co.nr that can be used for any free web site, blog, forums, or other web page published on the web.
FreeDomain.co.nr service works in form of URL redirection, so that they support meta tags, URL masking, path forwarding, your very own Favicon, Google Webmaster Tools, etc. However, free .co.nr domains do not support DNS changes and thus they are recommended mainly for beginners.
FreeDomain.co.nr has been providing domain name free services since 2003, so you can probably rely on their service, and it seems they do not add forced ads to free web domains that they offer.
Free Domain at .co.nf

Biz.nf is a free web hosting provider that enables to register a free domain name with .co.nf extension (such as www.sitename.co.nf) and to host it at Biz.nf servers at absolutely no cost.
Biz.nf provides a full featured free domain hosting service that includes both features for advanced users such as PHP hosting, MySQL, CGI, FTP support as well as free website builder tools such as easily installed WordPress blog and Joomla website, and more.
Biz.nf has been in business since 2008, and they offer totally eco-friendly green hosting service that can help to save our planet ecology.
Free Domain Name at .co.cc

Co.cc lets Internet users to register free domains with .co.cc extension for personal (non-commercial) use, and they also sell .co.cc domains to businesses in bulk at a very low prices.
In addition to free website domain registration Co.cc also provides mapping of .co.cc domains to Blogger, Window Live, Google Apps and Amazon Associates. Co.cc does support DNS changes and thus CNAME, A, MX, NS, and TXT records.
Update: CO.CC is currently offline, and it seems they have completely closed down there services. If that's the case, we'll remove CO.CC soon.
Co.cc has been offering free short domains since 2007, however, it seems they (and all their users) were banned by Google and other big guys several times..
Free Domain at .tk
Dot.tk is a Tokelau (small islands in Pacific Ocean) based company that provides free 2nd level domains with .TK extension, so that free free domain site looks like www.sitename.tk and that is the shortest free domain option available on the web.
Dot.tk enables to register free domains and either redirect them to a website (domain forwarding), or they enable to use ones own name servers, i.e. the DNS changes are allowed. One can also pay for .tk domain and thus obtain the legal registrant rights (free domains do not provide registrant rights and the free site must receive at least 25 visitors in any 90-day period).
Dot.tk guys have been providing free .tk domains since very 2001, however, we were reported their service/servers are a bit slow from time to time..
Free Domains at .biz.ly

Biz.ly free domain host provides a very short free domain with business meaning .biz.ly extension. Unlike the previous provider Biz.nf offers 3rd level free domains such as www.sitename.biz.ly that are registered and hosted at their servers at no additional cost.
Apart from free .biz.ly domains they also provide free hosting services as well as free site builder and blog builder, and many pre-installed tools such as photo album, guestbook, hits counter, webrings, form mailer, site copier, etc.
Biz.ly has been providing free domain names since 2002, and their service is quite simple and thus it is recommended for beginners.
Free Domain at .COM, .NET, .ORG, etc.
And in case you do not mind to pay few dollars to host your web site with reliable and customer focused web hosting provider, you can get a free domain name with .com, .net, .org, .biz, .info, or .us extension included with their website hosting plan. We'd suggest to check the following web hosts:
or you can check best 10 web hosting list at PRchecker.info site.