SingleHop has been providing affordable dedicated hosting solutions since 2006 to their dedicated server and cloud hosting clients all over the world. By the end of 2011 Single Hop claimed to host over 3,500 clients in their 2 data centers in Chicago. And in April 2012 SingleHop announced the opening of their 3rd datacenter in Phoenix.
SingleHop seems to be a constantly developing dedicated host provider and apart from traditional cheap dedicated servers and advanced managed hosting they offer Dynamic servers (a hybrid of cloud hosting and dedicated servers).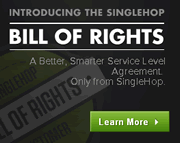 Single Hop provides Customer Bill of Rights, a SLA (service level guarantee) that they consider to be a kind of exceptional guarantee that ensures their customers a compensation in case of service failure.
One more thing we'd mention about SingleHop dedicated hosting is their own in-house developed control panel called LEAP that allows managing all necessary operations of dedicated server account quite easily.
SingleHop provides quite many low cost dedicated server (unmanaged) plans, some of those listed below and include the following features:
» ATOM 330, 250GB HDD, 2GB RAM, 10TB transfer – $99 /month
» Core2Duo E8400, 250GB HDD, 4GB RAM, 10TB transfer – $149 /month
» Xeon E3-1230, 500GB HDD, 8GB RAM, 10TB transfer – $175 /month
» and more dedicated servers by SingleHop.
You can buy the mentioned above or any other SingleHop dedicated servers with a substantial discount as follows:
15% OFF SingleHop dedicated hosting
(this coupon code provide discount for ALL SingleHop dedicated servers)
Please follow the guidelines below to apply SingleHop coupon code and obtain a 15% off discount on SingleHop Xeon E3-1230 dedicated server plan:
1. Follow the special link to get to Xeon E3-1230 page – CLICK HERE
2. Click the orange button "Customize & Deply" on the right, or use web site navigation to get to the other SingleHop server page to apply the coupon there;
3. Locate "Order Summary" box at the bottom-right corner of the order page that looks like the one on the picture below:
4. Copy SingleHop coupon from the text-box below
5. Paste the Coupon code by SingleHop to the appropriate space of the Order Summary box as per the picture below: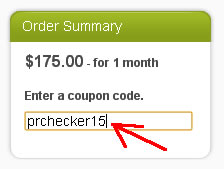 5. VERY IMPORTANT: move the cursor one position left to make javascript behind the box apply the Single Hop coupon properly. Once done, you should see that the coupon by SingleHop provides the correct 15% off dedicated server discount as per the picture below: