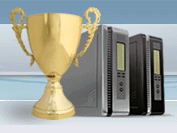 HostGator has been offering its services since 2002 and currently is among the best web hosting companies in the world. According to the host, it has over 400,000 clients who are provided with vps, shared, dedicated, reseller hosting. Dedicated server by HostGator is fully managed and supplied with more resources and better security. It is a cheap dedicated hosting where every plan comes with a free cPanel and can be delivered within 24 hours.
Unlimited web hosting is another feature by Host Gator that may be worth the customer's attention. It embodies 3 plans. Baby plan, along with unlimited disk space and bandwidth, is offered with unlimited number of domains. Parked domains, FTP accounts, sub domains are also have no limitations within the plan. A dedicated IP address is available for extra monthly charge.
In order to purchase Baby plan at JUST ONE CENT for the first month, that comes to almost free web hosting, please use the special HostGator hosting coupon provided by PRchecker.info site.
Follow the guidelines to apply HostGator coupon code and get the discount:
1. Copy the coupon code from the box below (right mouse click, select 'Copy'):
2. Follow this coupon link to get to HostGator.com – Click here
3. Choose Baby plan and click a yellow "Order now" button
4. Type your domain name to the right text-box and enter the coupon code to the "Coupon Code" text-box (right mouse click and select 'Paste'):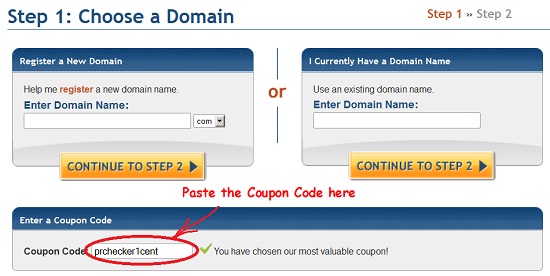 5. Click "Continue to Step 2" button. On the open page choose the "1 Month @ 0.01" billing cycle and see the "1 cent/mo" cost lower on this page.
6. Enter other information requested, choose a payment method (either PayPal or credit card) and click "Create Account" button to complete registration.