Before considering the best free WordPress hosting options available on the web let's first write few words about WordPress, powered by WordPress blogs, etc. So that, WordPress has matured from a tiny blogging engine used by internet geeks and small bloggers to a powerful blogging and CMS platform that powers many high profile websites such as AllThingsD, WSJ, CNN and PlayStation. WordPress is very popular thanks to its robust features, thousands of plugins and WordPress themes as well as an active support community.

WordPress.com (the service by WordPress developers) does offer free hosting for unlimited WordPress blogs. However, unfortunately, the downside to this is you are not allowed to install custom themes and plugins and monetization options are very limited. If you're willing to trade a few luxuries such as having complete control over the placement of advertisements, you can find a good free WordPress hosting option that will get you started in your blogging career.
The vast majority of free WordPress hosts is designed for individuals who are not comfortable with installing WordPress themselves, and as such offers simple one-click install processes. The average installation of WordPress, depending on host, takes between 15-30 minutes. Many free WordPress hosts also offer a wide variety of preinstalled themes.
Better yet, unlike WordPress.com, you can upload themes you have downloaded elsewhere. Another upside to a free WordPress or low cost webhost is that the vast majority of the technical work is done by the hosting company. Thankfully WordPress has improved vastly within the past three years and upgrades and installations of themes, plugins and core files is a one-click process.
Even though WordPress is one of the most search engine optimized (SEO) content management systems (CMS) out of the box, there are many free plugins that further increase the SEO of WordPress. Many free WordPress hosts offer a wide range of popular options such as the popular All-In-One SEO and Platinum SEO as well as options to download many more from WordPress plugins page.
Totally Free WordPress Hosting options
So that, there are many free hosts that support WordPress blogs at their servers at no additional cost that you might want to consider.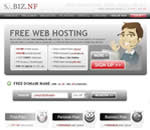 We'd recommend to check Biz.nf Hosting that provides free WordPress hosting which includes a bit limited 250MB of disk space, 5000 MB of bandwidth and a one click WordPress installation as well as a free .co.nf domain. This option should be perfect for those who are looking to get started with WordPress as well as for experienced users as this free webhost does allow to install your own WP themes and WP plugins.
And you can check best free hosting page for other free WP hosting options.
Free Install and Configuration of WordPress blog
Another possibility to get a "free WordPress hosting" is to purchase a low cost web hosting plan from a solid web hosting provider that provides some kind of special free WordPress package that include easy one-click installation, automatic configuration and on-going support of WordPress blog hosting.
Most of those WordPress hosting plans cost from $3 to $5 per month and usually provide unlimited hosting space and data transfer, a free domain, and a hip of other advanced features. We'd suggest to check the following web hosts:
and you can also check our web page related to the best hosting services where you might find more WordPress web hosting options.