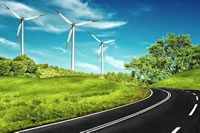 Green hosting, also called eco-friendly hosting, involves web hosting that is environmental friendly. While there are many things that a company can do to classify themselves as a green host, the most common involve using renewable energy such as solar, hydro or wind energy. A company can count itself as a green host if it is actively involved in persevering the environment such as tree planting, waste cleanup, recycling and the minimal use of disposable materials such as paper and plastic.
There are many reasons why one should use green hosting, but one of the biggest reasons involves energy consumption. Currently the global internet usage statistics are growing rapidly each year and in the USA alone, the annual equipment operation costs total over $2.5 billion with the worldwide costs racking up well over $7 billion. Using green hosting not only helps lower these costs but save the environment as well.
So far the statistics do not paint a good picture. The average server produces the same carbon emissions as a 15 mpg SUV and at current trends, by 2020, web hosting companies will be a bigger polluter of the environment than the airline environment. This should be the biggest reason alone why someone should go green hosting as they will be helping to reduce the pollution the web hosting industry is producing.
Another huge reason why you should opt for green hosting is that the cost for green hosting can be lower than regular hosting. This of course means saving now and for those whose web hosting are a huge cost, some of these hosting costs can be written off for tax purposes based on the use of green hosting.
Green Hosts to Consider
HostGator
One of the largest website hosting companies in the world, HostGator hosting over 8 million domain names. Thanks to their new initiative, all of the company's shared hosting servers are "130% wind powered". Their reseller hosting and dedicated servers are also powered by wind energy.
iPage
iPage is another hosting company that is using green energy to power their data centers. The company boasts on their webpage that "The servers, offices and data centers supporting your website are completely powered by wind energy". Currently, iPage hosts over 1 million websites.
GreenGeeks
Another web hosting that uses wind energy, GreenGeeks hosts over 100,000 websites. Just the name alone is evidence that the company is about the environment, and so far they have been at the forefront of pushing web hosting companies to go green. Although they are the smallest on this list, they are one of biggest advocators of green energy.
Conclusion
Ultimately, there are pros and cons to everything, but the pros for green web hosting far out way the cons. Before you decide to go green in your hosting, read hosting reviews to find the company that is the most environmental friendly as well as have the best support and uptime, because in the end, business is business and you want to make sure you are making a wise decision.